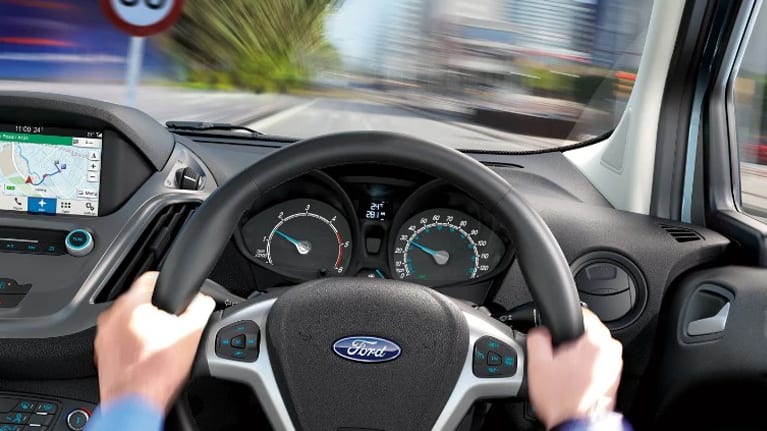 Less tiring drives, more economical journeys
Cruise Control lets you set a speed then maintains it until you brake or accelerate. Via toggles on the steering wheel you can also adjust your speed while you're driving.
In addition, the Adjustable Speed Limiter device helps you drive within a pre-set limit that you select. Not only does it help you to save fuel, the system can minimise the likelihood of you exceeding the speed limit too. As well as their practical benefits, both technologies can make long motorway journeys more relaxing.
A 6-speed transmission saves on fuel
New Transit Courier is equipped with a 6-speed manual transmission, making it more economical and efficient. Once you reach a high enough speed, just slip your van into 6th gear and save on fuel while you're cruising along. You'll find the gear changes are smooth and quick too.
SYNC 3. For an effortless hands-free experience
Ford SYNC 3 is an advanced system that enables you to stay connected and control your phone, music and navigation system. Choose either voice commands or the 6" colour touchscreen with pinch-and-swipe gestures for intuitive navigation. Live Traffic can help you avoid the jams. You can even call up a list of local restaurants simply by saying "I'm hungry".
Stay in control, even in challenging conditions
Electronic Stability Control and an advanced Traction Control System constantly monitor your vehicle's progress. They sense when the vehicle is losing grip and automatically apply a braking pulse to individual wheels, helping to stabilise it. This ensures you have the best possible grip, performance and stability when you need it most.
Compact and capacious
It may be compact, but with a load area of 2.3 cubic metres you get 10% more load volume than other vehicles in the same class. Behind the full bulkhead, there's room for a Europallet and a generous 600kg payload capacity. Ingenious features help protect both your cargo and your vehicle from the rigours of working life. And because the van is built to tough commercial vehicle standards it's not only made to last, but designed to minimise cost of ownership.